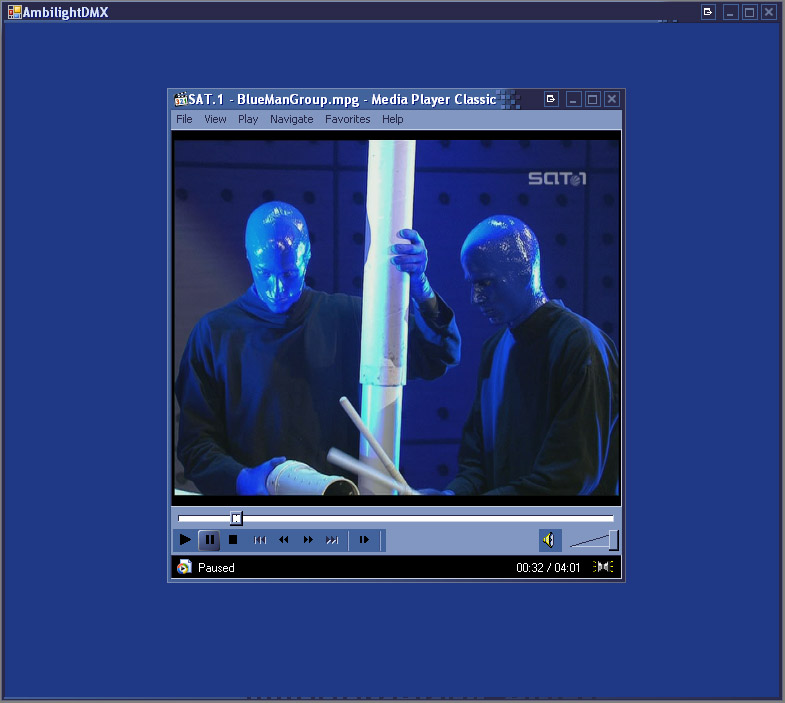 What about BT's Lumini Affecti?
Basically it is known as
Ambilight
. It uses an video/tv-stream as source, calculates the average main color of the hole picture(frame) and displays it on a controllable RGB device.
In my case the display is any RGB device which supports
DMX
.
The output from DMX is made by some USB-DMX interfaces like
DE-Interface
.
The conversion from RGB to USBDMX out is made by
Mar3kus Amblight Plugin
for
DMXControl
. But you can use it as standalone as well without having DMXControl installed.
So much for that, now to my part in this story: On Windows normally every played video is shown on a so called "overlay", which means that the video you actually see on your screen is only a black rectangle, if you make a screenshot, and the video is calculated afterwards by your graphics card. And here comes the tricky thing: How to get that video frame that doesn't exist on your window desktop?
Answer: via some nice tools. In my case i have FFdShow as an DirectVideo Filter installed which has a link ability to
AVISynth
. AviSynth has a good documented plugin API which i use for my Plugin.
Confusing, isn't it? Okay, i'll try another picture:
[Your video] -> FFdShow Filter -> 
AVISynth -> BT's Lumini Affecti -> 
Mar3kus Ambilight + Video output on screen -> 
DMX-Interface -> RGB device
so, that's it!